YSR Housing Scheme | Latest YSR Housing Scheme List | AP YSR Housing Scheme Beneficiary List | Andhra Pradesh Housing Scheme
YSR Housing Scheme is a Andhra Pradesh State Government Scheme which aims at providing houses to people who are underprivileged and belong to the economically weaker section of the society. The scheme was launched on 12th July 2019 by honorable Chief Minister Mr. Jagan Mohan Reddy. YSR Housing Scheme old name was NTR Housing Scheme and is named in remembrance of late Chief Minister YS Rajasekhar Reddy.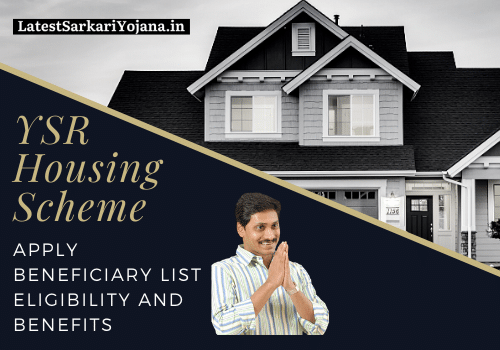 Andhra Pradesh Government has planned to build 30 lakh houses by 2024. The first phase construction of 15 lakh houses began on 28th August 2020 across all 13 districts of the state. Each housing unit will be of 288 sq. feet plinth area and will consist of a living room, bedroom, kitchen, toilet and veranda.
A total of 3,691.79 crores were sanctioned by the Andhra Pradesh state government for this scheme in the 2020-2021 budget. The government will be spending an additional Rs.2,540 crores for water supply and Rs.3,200 crores for electricity. The total cost of this AP housing scheme is estimated to cost Rs. 27,000 crores.
The remaining 15 lakh houses is to be constructed in Phase II of the project and is expected to start in year 2021. Housing will be provided to all beneficiaries who have been granted house site pattas by the State Government.
Key features of Andhra Pradesh Housing Scheme
The Andhra Pradesh Housing Scheme colonies will be called as YSR Jagannath Colonies.
Construction of 30 lakh houses in coming 4 years starting from 28th August 2020.
Construction of 15 lakh houses in Phase-I , Project cost Rs. 27,000Cr. (2020)
Construction of 15 lakh houses in Phase-II (2021).
Housing will be provided to all beneficiaries who have been granted house site pattas by the Andhra Pradesh State Government.
Supply of quality housing materials from manufacturers to all beneficiaries less than market price through reverse tendering.
Providing Infrastructure facilities viz., Roads, Water supply and Electrification in layouts.
YSR Housing Scheme was launched to benefit people belonging to the economically weaker section (EWS), low income group (LIG) and middle income group (MIG) This scheme can be classified into three main group which are as follow.
YSR EWS Housing Scheme: This scheme focus on providing Pucca Houses to Economically Weaker Section of the Society.
PMAY – YSR Urban Housing Scheme: This scheme aims at providing Pucca Houses in the urban areas to low income groups or middle income groups.
PMAY – YSR Gramin Housing Scheme: The Andhra Pradesh State Government launched this scheme to develop rural areas.
Eligibility Criteria to Apply for YSR Housing Scheme 2021
To be eligible for this AP Housing Scheme you must fulfill the following criteria mentioned below:
The applicant should be a domicile of Andhra Pradesh.
Should not own any house or land.
The applicant should have APL (Above Poverty Line) / BPL (Below Poverty Line) ration card and a caste certificate.
Documents Required for YSR Housing Scheme 2021
The documents required to apply for this scheme are listed below:
Applicants bank passbook
Certificate of domicile
Income certificate
Aadhaar card
Photograph of the applicant
Address proof
Contact details of the applicant
Saral Portal Haryana Login & Registration
YSR Housing Scheme: Application Form
Now let us know how we can apply for the scheme. Below are the procedure given for application form for YSR Housing Scheme. The offline form is available on the official website of Andhra Pradesh Housing Scheme. You can download the form from here and fill are the necessary fields and attach all the required documents. Submit the form and wait for approval. After approval you can find your name in Sanction list.
Below is the process to check your name in the Sanction List of Housing Scheme.
Fill in all the details to see the Beneficiary List.
YSR Jagananna Colonies Scheme
A new housing scheme named YSR Jagananna Colonies has been launched by the state government on 8th July 2020. Under this scheme government is going to provide land to beneficiaries along with instructions for the construction of the house. Banks are also given directions by the government to provide financial aid to the beneficiaries. Around 60,000 beneficiary has been enrolled for this housing scheme and around 10,000 are under consideration.
Helpline Number
For any query, you may contact us via:
Toll free contact number 1100
Email id- helpdesk.apshcl@apcfss.in