YSR Rythu Bharosa ap gov in | Rythu Bharosa Website| Rythu Bharosa Beneficiary list | YSR Rythu Bharosa status | AP Rythu Bharosa
Dear Readers , Today we are sharing all important information about one of the nine Navratna welfare schemes of Andhra Pradesh government named YSR Rythu Bharosa.You can check the all related information and all important procedure.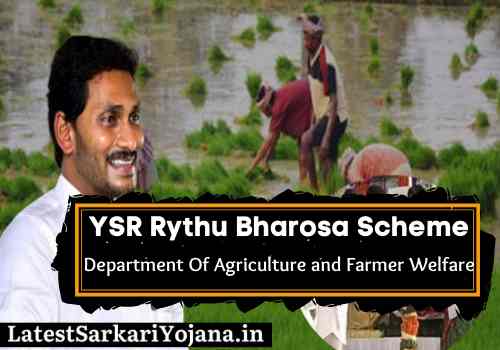 YSR Rythu Bharosa AP
Andhra Pradesh CM YSR Jagan Mohan Redddy launch YSR Rythu Bharosa Scheme from October 15th, 2019 for poor farmer family to help financially.
The pending amount of poor farmers are released on 15th May 2020,by the AP Government. Due to covid-19 pandemic the first installment 2000 Rupees of this scheme was already distributed to the farmers in april 2020.While dues amount 5500/- has been transferred also to the 49.45Lakh farmer's account.The Govt. of Andhra Pradesh has distributed 2800 crore to the farmer's account.
Farmers can visit Official website to check Bharosa Scheme status and ysr rythu bharosa payment status using few basic steps.
About YSR Rythu Bharosa
| | |
| --- | --- |
| Name of the scheme | YSR Rythu Bharosa |
| Article about | YSR Rythu Bharosa List |
| Launched by | Mr Jagan Mohan Reddy chief minister of Andhra Pradesh |
| Department | Department Of Agriculture and Farmer Welfare |
| Beneficiary | Farmers Of SC / ST / Minority / BC category |
| Start date of Scheme | 15th October 2019 |
| Date of Releasing 1st Installement | 15th May 2020 |
| Date of Releasing 2nd Installment | Month of Oct 2020 |
| Benefits of Scheme | Rs. 13,500/- Per Annum for 5 Years |
| Official website | https://ysrrythubharosa.ap.gov.in/ |
YSR Rythu Bharosa Scheme Phases
There are total three phase under the YSR Bharosa Scheme. Read all detail about the every phase is below.
| | | |
| --- | --- | --- |
| First Installment | Rs 2000+Rs 5500 Amount | Till May 2020 |
| Second Installment | Rs 4000 | In the Month Of October |
| Third Third Installment | Rs 2000 | In the Month of Jan 2021 |
| Total | Rs 13500 | Till the End of 2020 |
List of YSR Rythu Bharosa Benefits
The interest rate for Andhra Pradesh poor Farmers get loan at 0% .
Every Poor farmer family of Andhra Pradesh State get 67,500/- within 5-Year,INR 13,500/-per month.
if any farmers live as on rent will get Rs. 2500/- per year
Farmers will get free electricity for nine hours in a day
Free bore well facilities available for each farmer family.
Farmers need not to pay road tax for tractors
Cold storage units will establish all over the Andhra Pradesh state
Life insurance cover of Rs. 5 Lakh for the farmers family
A premium of the insurance will be paid by the government
All Pending irrigation projects will be completed as soon as possible
According to Some starting data almost 4 lac applicant will cover under this scheme. For Farmer free borewells and zero-interest loans will also cover under this YSR Rythu Bharosa scheme.Andra pradesh govt. allocate the INR 5500 crore budget for this scheme. Under this scheme, the amount will directly be transferred to the bank accounts of the beneficiaries.
YSR Rythu Bharosa Eligibility
Under this scheme,Farmer who have own Cultivable land are eligible.
Farmer must be permanent resident of Andhra Pradesh State.
Farmer must have at least 5 acre cultivating land.
The farmer who is already enrolled under the PM Kisan Scheme will get all benefit of this scheme.
According to Andhra Pradesh Govt. the farmers are eligible who cultivating on endowments/temples/inam lands.
Present Ministers, MPs, MLAs & MLCs farmer and family members are excluded from that Scheme .
if Any Unmarried child of farmer is a Govt. Employee, then in case the farmer will not exclude from this scheme.
Note: Gram Panchayat's are the implementing agency at the state and district level.
Apply Online Step by Step
Step-1: Visit the RythuBharosa official Website Click here
Step-2: Login Now click on the login Tab available on the home page.
Step-3: Enter all detail login detail like username, password and captcha for login.
Step-4: Now you are ready for apply.
How to check Rythu Bharosa payment status
Visit the official Rythu Bharosa website. Click here
Click on the option Payment Status in menu bar
Enter the ADHAAR Number with Captcha Code in the given Option.
After Entering all information click on the submit button and the payment status will be done.
Rythu Bharosa Scheme Helpline Number
You can see the list of the names of the beneficiaries under YSR Rythu Bharosa in the Gram Panchayat. If any farmer is left under this scheme, then he can call the helpline number 1902 to join it and tell the solution of his problem.
Helpline number (toll-free): 1800115526 / 155261
Helpline number: 0120-6025109
Latest Update on Rythu Bharosa-PM Kisan Scheme
Chief Minister Y.S. Jagan Mohan Reddy released Rs 2,800 crore to complete the Rythu Bharosa-PM Kisan Scheme.About 49,73,590 farmer families will benefit from this scheme.
The first installment under YSR Rayathu Bharosa-PM Kisan Yojana will be deposited in the bank account of farmers before the kharif sowing season.
Important Points related to YSR Rythu Bharosa Scheme
YSR Rythu Bharosa Scheme is a welfare scheme for farmers of the state of Andhra Pradesh.
The only goal of this scheme is that more and more poor farmers of the state can benefit from it.
---
FAQs
How to apply for rythu bharosa scheme

Visit the RythuBharosa official Website Click here

When will you get the 6th installment of PM Kisan Samman Yojana?

The 6th installment under the PM Kisan scheme is credited in the 2nd week of August 2020

Are there any schemes like Rythu Bharosa in Uttar Pradesh as well?

No,there is no any scheme in uttar pradesh

What is the eligibility criteria to be included in the Bharosa Scheme?

One of the most important Eligibility criteria is that applicant should be permanent resident of Andhra Pradesh.